Sheffield skin cancer rates prompt warning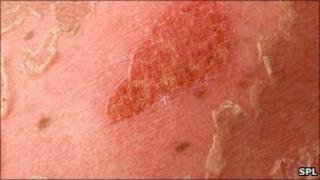 Skin cancer rates in Sheffield are "significantly higher" than the national average for England, health officials in the city have warned.
NHS Sheffield has issued the alert as part of a campaign to warn young people of the dangers of exposure to the sun.
Nationally, the number of people aged 15 to 35 diagnosed with melanoma has tripled since the late 1970s.
In Sheffield, 112 people were diagnosed with malignant melanoma, the most serious form of skin cancer, in 2010.
A spokesman for NHS Sheffield said: "Rates of malignant melanoma cancers in the city are significantly higher than the average for the England."
Children 'vulnerable'
Sheffield GP Dr Anthony Gore said: "Everyone enjoys being out in the sunshine, but just because a tan looks good and feels good that doesn't mean it's healthy for you or your skin.
"Anyone wanting to stay safe in the sun can do so by following a few simple tips: spending time in the shade when the sun's rays are at their most intense between 11am and 3pm, using factor 15+ sunscreen, and covering more at-risk areas up with t-shirts, hats and sunglasses.
"Babies and young children are much more vulnerable to the damaging effects of the sun's rays as they have delicate, thinner skin, so be sure to protect them by keeping them out of direct sunlight, applying factor 15+ sunscreen to their skin and putting on sunhats to shield their faces from burns."
New laws introduced in 2010 now mean that under-18s are banned from using sunbeds in tanning salons, gyms and leisure centres.
Dr Gore said: "The under-18 sunbed tan ban is really good news as young skin isn't properly formed, and it's a powerful way to send a clear message out that youngsters shouldn't overexpose their skin to intensely harmful UV rays."
A sun awareness campaign will run throughout May at local pharmacies across Sheffield.