South Yorkshire Police helicopter takes to Twitter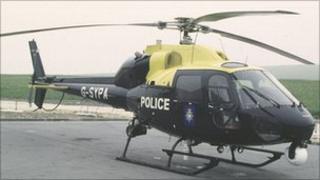 South Yorkshire Police officers operating the force's helicopter have started tweeting about their work.
The helicopter is the single most expensive resource the force has.
Sgt Helen Scothern, head of South Yorkshire Police's air operations unit said: "Many people associate the sight and sound of the helicopter with car chases and criminals on the run,
"However, the pilots and observers play a vital role in reducing anti-social behaviour and gathering intelligence."
On Monday at 2350 BST, the crew onboard the helicopter - @SYP_AirOps - tweeted: "Mosborough - High-profile patrol after group disturbed prowling round vehicles in area."
The aircraft, which covers Sheffield, Barnsley, Rotherham and Doncaster, is in the air for about 1,200 flying hours a year.
In 2010 it took part in 5,612 different tasks.
Police community support officers in Sheffield have been using Twitter to share what they are doing out on patrol since September 2010.