UK Coal reports third year of losses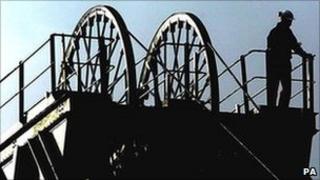 The UK's biggest coal producer has admitted it has "deep-rooted problems" after recording losses of more than £100m for the second year in a row.
Doncaster-based UK Coal was £124.6m in the red last year, following losses of £129.1m in 2009 and £15.6m in 2008.
Chairman Jonson Cox, who took over in November, said: "It's a story of woeful and sustained underperformance that's been tolerated for far too long."
He said the group had now embarked on a "complete overhaul of strategy".
A strategic review is expected to be completed in time for the company's annual general meeting in June, although some of the findings are already being put into practice.
'Urgent need'
The company has already saved £12m by withdrawing an inflation-linked pay award which had been due to take effect in January and reducing the size of its head office.
It also warned of the need to close the current final salary pension schemes for its 3,000-strong workforce.
"In all these actions, we have appreciated the co-operation and help of the workforce," said Mr Cox.
"The urgent need for further change has been communicated clearly to all colleagues and unions and we believe that the message is understood."
He added that the group, which has three working deep mines in Yorkshire, Nottinghamshire and the West Midlands, had become over-reliant on debt, with net debt rising from £94m in 2006 to £242m in 2010.
Production volumes and operating costs had all deteriorated over the past five years and even safety performance, which Mr Cox described as "our highest priority", had been unacceptable.