Doncaster Rovers give free Crystal Palace match tickets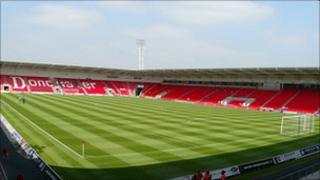 Doncaster Rovers have released fans thousands of free tickets for their key relegation match against Crystal Palace on Good Friday.
Officials are offering up to 8,000 free tickets for the "must win" game at the Keepmoat Stadium.
The club's website said the tickets were available on a first-come, first-served basis.
Rovers are currently five points above the Championship relegation zone and one place ahead of Palace.
Doncaster chairman John Ryan said the cost of giving away the tickets was not an issue for the club, and what they want is the town behind the team for the clash.
He said: "Please come down to the Keepmoat Stadium and help us ensure that we are playing Championship football next season.
"I will be there on Friday afternoon in the Polypipe Stand beating the drum to brew up an electric atmosphere.
"Whether you are a man, woman or child you will not have to pay for your match ticket for the encounter with Crystal Palace."
The tickets are restricted to two per supporter although tickets will be available for families.