Mayfield Valley WI call for valley lorry ban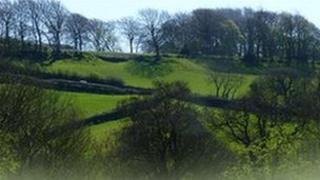 The Women's Institute (WI) in a rural valley near Sheffield has started a petition to ban lorries from using roads in the area.
Mayfield WI blame satellite navigation systems on directing lorries along the valley's narrow roads.
More than 700 people have signed a petition to ban lorries and reduce the speed to 30mph (48kmph).
The WI said it wanted the ban because the roads, which do not have pavements, are used by walkers and horse riders.
Cut through
The Girl Guides also have an outdoor activity centre nearby.
Joan Newton from the WI said: "There were occasionally vehicles using the roads before, but not the numbers there are now since drivers started using satellite navigation.
"There are no pavements for walkers to get out of the way of the traffic."
The petition calls for heavy goods vehicles, except farm vehicles, to be banned from using Cottage Lane, Hangram Lane, Woodcliffe and Quiet Lane.
Some lorry drivers use the roads through the valley as a cut through from the A57 and A6101, especially when the devices indicate the A-roads are congested.
It is hoped the petition will be submitted to Sheffield City Council in June.