Sheffield Forgemasters fire: More than 30 treated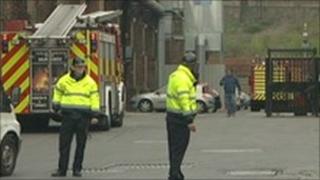 More than 30 people were taken to hospital after chemicals were released during a fire at a steel foundry.
Sixteen firefighters and 15 workers were treated by paramedics after the incident at Sheffield Forgemasters.
Six fire crews were sent to the Brightside Lane site to tackle a fire, which was extinguished shortly after it started at 1000 BST.
A number of chemicals were released and mixed, leading to respiratory complaints, the fire service said.
People were initially assessed at the scene after complaining of breathing problems, the ambulance service confirmed.
Fifteen firefighters were assessed by medical staff at the scene but did not need to attend hospital, South Yorkshire Fire Service said.
'Appropriately protected'
Doctors, paramedics and hazard response teams attended and people were sent for hospital checks as a precautionary measure.
Nine firefighters were taken to the Northern General Hospital in Sheffield and seven were taken to Rotherham General Hospital. All were expected to be discharged by Monday evening.
South Yorkshire's deputy chief fire officer, Jamie Courtney, said the firefighters were appropriately protected.
He said most were wearing breathing apparatus, but a small number of officers not wearing the equipment were caught up in a gas cloud.
A fire service spokesman said: "During the course of firefighting action a number of chemicals were released and mixed, some of the firefighters involved in tackling this incident have been taken to hospital as a precautionary measure for check ups."
There was believed to have been no significant damage to the building.
Investigations are being carried out into how the fire started.