Barnsley Football Club installs solar panels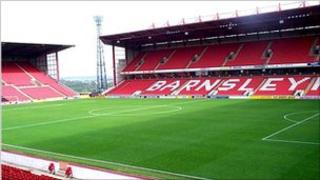 Barnsley Football Club is to install solar panels on the south and east stands of its Oakwell ground.
The panels will be used to power the club's buildings, with the club hoping to save tens of thousands of pounds on energy bills.
Energy which is not used by the club will be sold to the National Grid.
Don Rowing, General manager of Oakwell said the £1m project starting in May would help the Reds "go green".
He said: "With energy costs spiralling and likely to continue that way it makes business sense to use the large amount of roof surface available to us to save the club money and also to reduce our carbon footprint.
"This just shows what a green place Barnsley is and even though we are the Reds we can go green."
The panels will be installed by local company, Solar Europa, starting on 9 May to be completed by June.