Crimewatch appeal over sex assault of Sheffield girl, 14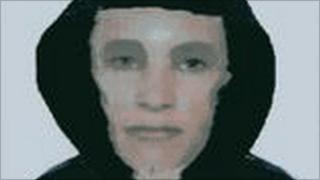 Police investigating a serious sexual assault on a 14-year-old are hoping for a breakthrough with an appeal on the BBC's Crimewatch programme.
The attack happened as the girl walked home from school through woodland in the Fox Hill area of Sheffield at 1520 BST on 4 November.
The hooded attacker is described as about 18 years old, white, with spots and a long skinny face.
A reconstruction will be shown on the BBC1 programme at 2100 BST.
'She's a child'
The girl was approached as she walked along a short cut through a wooded area known locally as The Quarry, which runs between Fox Hill Road and Edge Well Crescent.
Following the attack, the man ran off towards Edge Well Crescent, police said.
In an interview for the Crimewatch programme, the victim's mother said she was struggling to come to terms with the attack.
She said: "She is lovely, she's a character. Bit of cheekiness thrown in and very playful, affectionate, and funny, and everybody who meets her loves her.
"And she's little, she's always been small but big on character.
"She'd got no coping mechanism for that sort of attack. She's a child.
"She's not at that stage where she should have to deal with any of this, and she's struggling to understand why."
South Yorkshire Police said they have a DNA profile of the attacker, but it does not match anyone on the police database.
Officers have released an e-fit picture of the suspect and said they hope the Crimewatch appeal will prompt more people with information to come forward.
Det Ch Insp Phil Etheridge said: "She doesn't look 14 years old, she looks a lot younger.
"This is, for all intents and purposes, an attack on a child."
The man is described as between 5ft 4ins and 6ft tall with straight, dark brown hair, a pointed, dimpled chin and a pointed nose.
He was wearing light blue jeans, and a hooded royal blue jumper, which had a front pocket and white writing across the chest.