Animals rights group wants boycott of Thurnscoe circus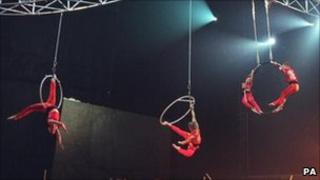 An animal rights group is calling for a boycott of a circus that recently arrived in a South Yorkshire village.
Circus Mondao, which will be in Thurnscoe for the next five days, uses animals including zebras, llamas, horses and camels in its show.
Fiona Peacock from the Captive Animals Protection Society (Caps) said the animals "spend most of their time caged up".
Petra Jackson, circus ring mistress, said they were treated fairly.
"Our animals aren't chained up and caged up... they have pens and stables," she said.
'Regular inspections'
Caps said circuses were on the road for eight to 10 months a year, and animals were constantly being transported across the country.
"Even when they do have access to their exercise facilities, it won't match the space they have in the wild," said Ms Peacock.
Ms Jackson said the circus would not be allowed to go ahead if the animals were not well looked after.
"We are inspected regularly by local welfare officers - if they ever found anything wrong, they'd close us down."