Doncaster's failed Earth Centre site is sold off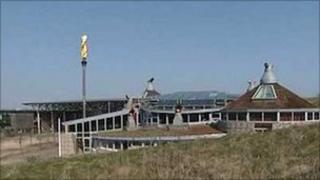 A failed environmental visitor attraction in South Yorkshire has been sold by a council to become an activity centre for school children.
The Earth Centre opened in 1999 on the site of a former colliery at Denaby at a cost of £55m, but was closed in 2004 after failing to attract enough people.
Now the site has been sold for an undisclosed sum to an educational firm.
The firm, Kingswood, hopes to create 200 jobs including apprenticeship schemes for local colleges.
Doncaster Council said Kingswood had agreed a "substantial subsidy" for schools in the area to make the proposed site accessible to local children and young people.
Mayor of Doncaster, Peter Davies, said: "I am delighted to welcome Kingswood to Doncaster, this is a very exciting development for the borough and will further strengthen our offer to visitors.
Educational facilities
"Their winning bid represents a unique and natural continuation of the site's heritage as a centre for learning, focused on environmental sustainability and targeting young people.
"I am particularly pleased that Kingswood has committed to a subsidy for schools in the Doncaster area to ensure that local children and young people will be able to access the exciting educational facilities the site has to offer."
Councillor Jonathan Wood, who is responsible for business and regeneration, said: "Throughout this process we have said that whoever takes on this site needs a business model that is sustainable without any injection of public money.
"Kingswood has a proven track record as a successful business both in the UK and Europe.
"The company will run the 50-acre site as a wholly private business, creating jobs and opportunities for local people."
In February last year, Doncaster council revealed it was spending £200,000 a year to maintain the 20-hectare (50-acre) site.
It was put up for sale in October.