Man who sent stepson to bed in straitjacket jailed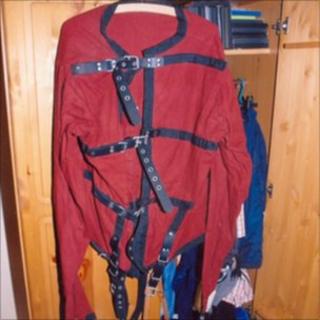 A picture of a straitjacket and restraints a man used to tie his 11-year-old stepson to his bed has been released.
The man, 39, who cannot be identified for legal reasons, was jailed for three-and-a-half years after admitting child cruelty earlier this week.
The boy's treatment was described as "horrific" and "grotesque" at Doncaster Crown Court.
His mother was jailed for two years for failing to stop the abuse.
A picture of the restraints was released by the Crown Prosecution Service.
The court was told the man thought the restraints would help his stepson sleep as he wrongly believed he was suffering from autism, prosecutors said.
The boy was also made to sleep in a surgical neck collar.
The court heard that the stepfather had an interest in bondage gear, but police could find no evidence of a sexual element to his treatment of the boy.
He bought the straitjacket over the internet but made some of the other equipment in his own workshop, the court was told.