More than 60 jobs to be axed at Rotherham hospital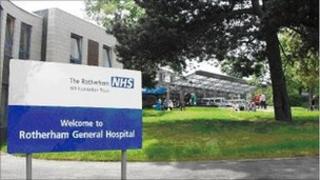 More than 60 jobs could be axed at Rotherham General Hospital to deal with a funding shortfall.
Rotherham NHS Foundation Trust has confirmed a potential reduction of 62 posts in medical and surgical areas as part of restructure plans.
Unison regional officer Sue Cookman said the cuts would affect frontline services.
Trust chief executive Brian James said they "were working closely with unions and appropriate staff representatives".
Ms Cookman said the 62 posts were on top of an additional 80 posts which were being made vacant at the hospital.
She said the trust should be cutting computer costs and bosses' bonuses rather than frontline services.
Ms Cookman said: "We are worried for the people there [at the hospital], the people of Rotherham and for our NHS.
"It's very easy when you look at a budget to think staff costs, that's a big area we can cut, that but that's a very short term view."
The trust said a voluntary redundancy scheme was currently running which would impact on the number of compulsory redundancies.
In a statement Mr James said the NHS had to make up to £20bn savings over the next four years and the trust "was not immune to the effects of this reduction".
He said: "We have always been clear that we want to protect frontline services as long as we can but we also know that we have to make changes and make them now."
He added: "We are working closely with unions and appropriate staff representatives to manage the process in an open and transparent manner but ultimately this will be a difficult time for those staff placed at risk due to the restructure and we will provide as much support as possible."