Daniel Hindle lip piercing death prompts advice pack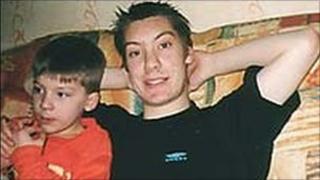 A Sheffield mother whose teenage son died after having his lip pierced is helping to launch a school information pack about the dangers of piercings.
Daniel Hindle, 17, died in 2002 of septicaemia - two months after he visited a city studio to have a ring fitted to his lip.
The A-level student, who was born with a heart condition, fell ill just days after the piercing.
His mother Christina Anderson has been calling for tougher rules on piercing.
'Extreme case'
Following her son's death, Ms Anderson and her family set up a website called Dan Aid to highlight the problems of body piercing and call for tougher regulations of the industry.
As part of her campaigning, she has helped introduce the Dan Aid Body Piercing Teaching Resource Packs, which are being sent to secondary schools in Sheffield.
"Daniel is an extreme case. There are hundreds of teenagers who have body piercings every day and most will be fine," she said.
"But there is a minority that will be more predisposed to succumbing to an infection and we want to get the information to those young people in particular."
Ms Anderson said within days of having the piercing, Daniel had felt ill.
He stopped eating, went to bed and Ms Anderson called a doctor who, she says, claimed Daniel had gastroenteritis.
Another doctor eventually admitted him to hospital.
He spent two weeks in intensive care at Sheffield's Northern General Hospital, but his heart problem meant he needed to be transferred to its coronary care unit.
Misadventure verdict
He was later moved to Papworth Hospital where doctors hoped a heart transplant might help.
But Daniel was too weak for surgery and died of septicaemia at Leeds General Infirmary.
Ms Anderson is adamant that the septicaemia was the result of Daniel's piercing.
At an inquest into her son's death in 2005, a coroner's jury returned a verdict of misadventure.
At that time, coroner Chris Dorries said he would be writing to a number of professional bodies to warn about the dangers posed by body piercing to those vulnerable to infection.
Ms Anderson said the school information pack was about educating teenagers on the risks associated with piercing.
She said: "The government don't regulate the body piercing industry as well as we think they should.
"We want to inform young people and raise awareness that Daniel didn't have access to."
The Health and Safety Executive (HSE) said recent changes to the Local Authority Act meant regulations for cosmetic piercings had been brought more in line with businesses performing ear piercing and tattooing.