About 5,000 march in Lib Dem Sheffield conference protest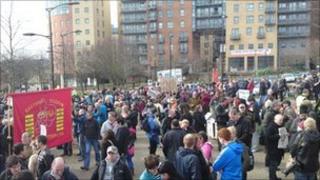 About 5,000 protesters marched through Sheffield on the second day of the Liberal Democrat conference, police said.
A 24-year-old man was arrested for public order offences and discharge of a firework in a public place. He was later released with an £80 fine.
Barricades were in place on Fargate and Surrey Street following a series of incidents, South Yorkshire police said.
Officers have denied accusations of "kettling" demonstrators.
'Good natured'
One officer stated on Twitter: "What you refer to as 'kettling' is officers trying to prevent disorder and damage while keeping peaceful protesters safe."
The march set off from Devonshire Green at 1100 GMT.
The event has been "good-natured on the whole", police said.
Police have prepared for up to 10,000 demonstrators descending on the city throughout the three-day conference.
The force obtained orders banning protesters from some areas and limiting numbers in others.
The march moved on to Fitzwilliam Street, Charter Row, Pinstone Street and towards the Town Hall, finishing on Barker's Pool.
The force said orders have been put in place designed to "allow peaceful protest but minimise disruption to local people".
Steel fence
The orders prohibit demonstrations on certain streets and in the city's Peace Gardens, an area next to the Town Hall and a short distance from the conference venue at the City Hall.
One provision was to allow only 100 protesters outside the Mercure Sheffield St. Paul's Hotel, in Millennium Square, at any one time.
An 8ft (2.4m) high steel fence has been erected around the City Hall venue.
The march was organised by a range of groups including Right To Work and the Sheffield Anti-Cuts Alliance.
Police said 1,000 officers were on duty in the operation which was expected to cost about £2m.
The Liberal Democrats cancelled a London conference in December due to protest threats.