Police plan for Lib Dem Sheffield conference protests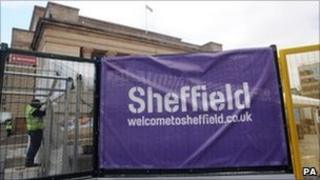 Up to 10,000 demonstrators are expected to descend on Sheffield during the three-day Liberal Democrat conference.
A march is planned through the city on Saturday and police have obtained orders banning protesters from some areas and limiting numbers in others.
South Yorkshire Police said it was also looking into one report there had been a threat to kidnap Lib Dem leader Nick Clegg during the conference.
An 8ft (2.4m) high steel fence has been erected around the City Hall venue.
Mr Clegg, who arrived in Sheffield on Thursday, laughed off reports of a kidnap threat.
'£2m costs'
When asked if he was worried, he replied: "I don't think so. I'm absolutely delighted to be here."
Police said they were looking into the kidnap reports, adding: "The force is aware of the article, we are investigating its content and are looking to establish the validity of the story."
About 3,000 delegates are expected at the conference, which starts later.
Police said 1,000 officers would be on duty in an operation expected to cost about £2m.
The cost, borne by the police, comes as the force tries to make £15m of savings.
It is thought to be the biggest operation staged by South Yorkshire police since the G8 summit in 2005.
Officers' leave has been cancelled so the force can mount a 24-hour security operation for the duration of the event, as well as carry out normal duties.
A full contingency is in place for possible trouble, police said.
The Lib Dems cancelled a London conference in December due to protest threats.
'Laying siege'
Supt Martin Scothern said officers had been working with protest groups and there had been a "candid exchange of views" about what was likely to happen.
He said: "I think that most of the people who come will peacefully protest and won't cause us a problem."
A protest march is due to start from Devonshire Green at 1100 GMT on Saturday, moving on to Fitzwilliam Street, Charter Row, Pinstone Street and towards the Town Hall, finishing on Barker's Pool.
The force said orders had been put in place designed to "allow peaceful protest but minimise disruption to local people".
The orders prohibit demonstrations on certain streets and in the city's Peace Gardens - an area next to the Town Hall and a short distance from the conference venue at the City Hall.
One provision is that there will only be 100 protesters permitted outside the Mercure Sheffield St. Paul's Hotel, in Millennium Square, at any one time (per 30 minutes).
A spokesman said: "These orders have been implemented to ensure the safety of people in the city centre, both residents and visitors."
The march has been organised by a range of groups including Right To Work and the Sheffield Anti-Cuts Alliance.
'Economy boost'
Chris Bambery, national secretary of Right to Work, said: "We will be laying siege to the Lib Dem conference on Saturday.
"We will be driving home the message that working people cannot, and will not, accept these ConDem attacks on our services, jobs and standards of living.
"If they can topple a dictator in Egypt, we can topple this ConDem government."
City councillors hope the conference will give the area's economy a boost.
Sheffield City Council's Lib Dem leader, Paul Scriven, said: "I wish some of the threats that have been made hadn't been made so we didn't have to have such a high-profile fence for security.
"But, even with the cost of that, in one weekend alone we'll be having £2.5m spent in the economy.
"In the long run it will be good for Sheffield - Sheffield jobs and Sheffield businesses."