Rotherham council to close 11 youth centres in town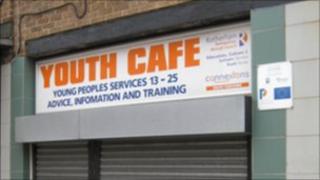 Half of Rotherham's 22 youth centres are to be closed to save more than £500,000, the council has announced.
The closure of the 11 centres will also mean the loss of 29 full-time posts from the town's youth service.
Rotherham council is to buy five "youth buses" at a cost of £325,000 to offer mobile youth services.
The Labour-run council said the changes would lead to more targeted services, but Tory opponents said the savings could have been met without closures.
New £3.5m centre
The youth centres which will close are: Aston, Bramley, Brampton Cabins, Catcliffe, Chislett, Dinnington, Harthill, Kilnhurst, Rotherham International Centre, Rotherham Youth Cafe, Wingfield.
The council said after the closures youth services would be focused on "core centres" in 13 areas and a new £3.5m youth centre funded by the Department for Education which will open in the town centre this autumn.
Overall, the changes will mean a £400,000 saving in 2011/12 and a further saving of £134,000 in the following year.
Following cuts to government funding, Rotherham council has to find overall savings of £30m in 2001/12, a further £19m in 2012/13 and £14m in 2013/14.
Mahroof Hussain, the council's cabinet member for young people's issues, said: "We have taken a thorough look at our services as we know that in some areas we are not providing the type of support and activities that young people want and need.
"These changes mean that with resources getting tighter for services we can replace under-used facilities and instead offer a range of alternatives from larger centres... as well as new mobile units where workers can get into the heart of communities and react to needs and issues as they arise."
'More money than sense'
However, Conservative councillor Martyn Parker said: "We don't agree with these changes, particularly if you look at the anti-social behaviour problem we are dealing with day in and day out in Rotherham.
"There is very little in the way of youth services anyway and then they're going to shut 11 youth centres.
"They can spend money left, right and centre, they have just committed to £97m of spending on new offices for the council, they have spent £2.5m on renovating the town hall and £140,000 of that was on wallpaper.
"That shows they have more money than sense."