Mother who plans to freeze eggs for daughter abused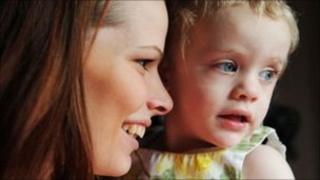 A mother from Sheffield who plans to freeze her own eggs for her infertile daughter to use has received "nasty" messages about her plans.
Two-year-old Mackenzie Stephens was born with Turner Syndrome, a chromosome abnormality which causes infertility.
Penny Jarvis-Stephens wants to freeze her eggs so Mackenzie can eventually use them for an IVF pregnancy.
Miss Jarvis-Stephens, 25, said the abusive messages were posted by some internet forum users.
The mother-of-five said she was posting on the parenting website ParentDish UK when she received the comments.
"The worst ones were when they were nasty towards Mackenzie.
"They said she was handicapped. They actually called her ugly as well as my other children.
"They also said, 'when Mackenzie's deaf how will she look after a child of her own?'
"Just think about the situation before you judge me. Think about why I'm doing it."
Miss Jarvis-Stephens said that some forum members had supported her and her plans.
The abusive posts have since been removed.
Mackenzie was diagnosed with Turner Syndrome when she was five months old.
The condition occurs when one of the two X chromosomes of female DNA is completely or partially missing, causing infertility as well as growth problems.
It is also associated with heart, kidney and thyroid problems, bone disorders and hearing and ear problems.
Miss Jarvis-Stephens is currently waiting for an IVF appointment, although there is no guarantee she will be able to have it.
"What I want to do is to go and see the doctor and go and get the ball rolling.
"I'm looking at it as donating an organ.
"Any part of your body that they'd [children] need you'd give to them, please think of the wider picture before you say anything. Think of the future of my child."