McAuley High School tribute to Doncaster crash students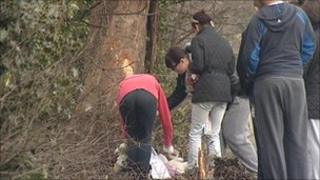 A headteacher has paid tribute to two pupils killed when a car skidded off a road and hit a tree in South Yorkshire.
The Honda Civic, which belonged to a relative of one of the teenagers, was torn in two in the crash on the A630 near Doncaster at 0430 GMT on Sunday.
Antonia Browne, 14, Michael Gallagher, 16, and Tom Hughes, 15, all died.
Antonia and Michael were pupils at Doncaster's McAuley Catholic High School, whose headteacher Paul Gray described them as "very popular".
Michael, from Warmsworth, had been driving and was cut free from the front of the car. Antonia, of Balby, and Tom, a Hall Cross School pupil from Bessacarr, were cut free from the back seat.
They were taken to Doncaster Royal Infirmary where they were all pronounced dead.
South Yorkshire Police want to speak to anyone who saw the Honda Civic, registration number YH53 EBF, between 2000 GMT on Saturday and 0430 GMT on Sunday in the Balby, Warmsworth and Conisbrough areas of Doncaster.
'Tears and smiles'
At McAuley school on Monday, Mr Gray said teachers and pupils alike had been "really shaken" by the tragedy.
He said: "The thoughts and prayers of all the school community are with the family and friends of these young people.
"During a prayer service this morning, between tears and smiles, some memories were shared by their peers."
Mr Gray said Michael would be remembered for being "an old head on young shoulders" by his close friends.
"If anyone was down or in need of advice, Michael was the one who would put things in perspective.
"He had a great sense of humour and was the lad on the bus who kept the others in fits of laughter.
"He was a bright student with bright prospects."
Antonia was described as "a beautiful person full of smiles".
He added: "She was the height of popularity, but never full of herself.
"While she had a small close knit group of friends, she would chat and laugh with anyone and everyone. Everyone knew her as one of the smiliest people in school."
Police have appealed for witnesses to the accident and are studying CCTV and data from roadside Automatic Number Plate Recognition (ANPR) systems to investigate the cause of the crash.
Ch Supt Keith Lumley, of South Yorkshire Police, said the car was heading towards Warmsworth when it failed to negotiate a left-hand bend. He said the road was "cold, wet and probably icy".
"The driver was only 16 years old so was unlicensed and would have been very inexperienced," he said.
"For some reason he lost control of the vehicle and it has collided with the tree across the road."