Labour selects Barnsley Central candidate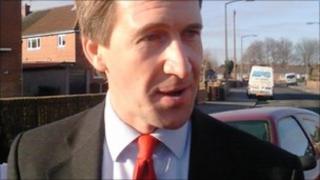 The Labour Party has chosen a former Army major as its candidate for the expected by-election in Barnsley.
The safe Labour Barnsley Central seat is currently held by Eric Illsley, who has admitted dishonestly claiming more than £14,000 in expenses.
Illsley has confirmed he will stand down as an MP, triggering the election.
Labour's new candidate Dan Jarvis is the first since 1938 that the party has picked for the seat who was not born in Yorkshire.
Mr Jarvis, who served for 15 years in the Parachute Regiment and currently lives in Hampshire, said: "Barnsley is a great community with a proud history and I'm honoured that local Labour Party members have chosen me as their candidate for Barnsley Central.
"The Tory-Lib Dem government is cutting too fast and too deep and they haven't got a plan for growth and jobs in Barnsley.
"This by-election is a chance for the people of Barnsley to send a clear message to David Cameron and Nick Clegg.
"I will always stand up for Barnsley and do the right thing for this community."
As Illsley has not yet formally resigned, the by-election has not yet been called and no date has been set.
Meanwhile, the British National Party (BNP) said the Barnsley Central election would be its "biggest by-election campaign ever".
The BNP said it was due to unveil its candidate on Saturday and had not ruled out selecting its leader, Nick Griffin, to stand.
Illsley, 55, announced he was quitting as an MP after his conviction earlier this month.
He said he "deeply, deeply" regretted his actions and would be resigning before his sentencing next month.
Illsley, who had already been suspended by the Labour Party, became the first sitting member convicted for abusing expenses when he changed his pleas to guilty at the start of his trial.