Dozens arrested in drug and gang operation in Sheffield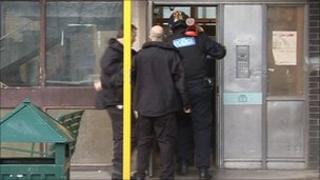 A long-running police operation to target drug and gang crime in Sheffield has led to more than 50 arrests.
Police and other agencies have been working undercover for 18 months to gather intelligence on those arrested.
Operation Mach was mounted in response to community concerns about the rising levels of violent incidents involving young people.
Over the past eight years there have been 10 lives lost in gang violence in Sheffield.
These include the death of 16-year-old Jonathan Matondo, who was shot in a Sheffield park in October 2007.
Less than a year later in July 2008, Tarek Chaiboub was shot dead outside a barber's shop as part of a feud between members of the city's S3 gang.
Supt Peter Norman said: "We want to stop youngsters being involved in crime that ends with people being shot, killed and seriously injured."
Operation Mach was started in August 2009 and involves South Yorkshire Police, Sheffield council, health trusts, the Crown Prosecution Service and other bodies.
Its aim is to reduce the level of serious youth violence in Sheffield and tackle street gangs.
Police said a special intelligence and evidence gathering operation had been taking place in the city which had led to a large number of people being identified as supplying Class A and Class B drugs.
On Monday more than 200 officers were involved in a series of raids in which dozens of people were arrested. The operation will continue into next week.
Mr Norman, the officer leading the operation, said: "This operation is the biggest operation South Yorkshire Police has ever mounted in terms of tackling drug dealing and we think the fact that we've gone to the lengths we have will demonstrate to people that the police take this very seriously."
Last year a Youth Offending Service report found guns were easily available to young people "in the know" in the city.
It warned there was a "misconception" guns were difficult to obtain in Sheffield and said the problems should remain a high priority for agencies.