Legal challenge for 'condemned TB bull'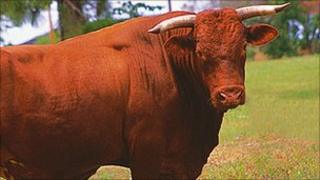 A South Yorkshire farmer has won the High Court's permission to challenge a decision to slaughter his bull after it tested positive for bovine TB.
Ken Jackson, of Forlorn Hope Farm, Walden Stubbs, disputes the validity of the TB test that condemned his bull.
He wants prize-winning Hallmark Boxter, also known as Boxy, to be re-tested and has offered to pay for it.
The judge told the court the farmer had an "arguable case" to reverse the decision, which should be heard.
Blood samples
Defra ordered the bull to be slaughtered after a positive blood sample was taken in April.
But Mr Jackson argued the officers who took the sample mixed two half-full vials in the field, contrary to written procedures.
He wants the positive test declared null and void by the courts.
Deputy High Court judge Rabinder Singh QC said: "He is a prize animal and it would appear that his value to these claimants is not simply to be assessed in monetary terms."
A bTB (bovine TB) alert arose on the farm after a bought-in beef heifer was found to be a carrier.
Vets condemned six more animals, including the bull, because there were grounds for suspicion they had been exposed.
Hallmark Boxter was first scheduled for slaughter last August before Mr Jackson started legal proceedings.