'Mercy killing' pensioner George Webb freed from jail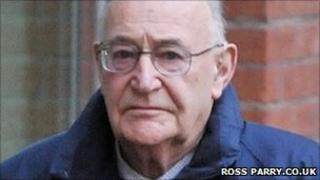 A man who smothered his 75-year-old wife in a so-called "mercy killing" has been freed from a two-year jail sentence by the Court of Appeal.
George Webb, 73, killed his wife Beryl at their ground-floor flat in Luke Lane, Wadsley, Sheffield, last May.
In December, he was cleared of murder at Sheffield Crown Court but found guilty of manslaughter on the grounds of diminished responsibility.
His ailing wife had begged him to help her die after suffering years of pain.
On 17 May 2010, Webb smothered his sleeping wife with a plastic bag and a towel.
At the Court of Appeal on Wednesday, the Lord Chief Justice, Lord Judge, sitting in London with Mr Justice Eady and Mr Justice Simon, allowed his appeal against sentence.
The judges replaced the two-year prison term imposed at Sheffield Crown Court with a suspended 12-month sentence.
Lord Judge, who described it as a "tragic case", said the court did not believe "in the unusual and particular circumstances" that the "principle of the sanctity of human life would be undermined" by the reduction in his sentence.
He added that it would mean "that this lonely old man may receive the help that he will need to come to terms with the disaster that has overtaken him".
Sheffield Crown Court had previously heard Mrs Webb had a number of ailments and had considered suicide for a number of years.
Last May she attempted to kill herself with 34 lorazepam tablets washed down with brandy and fizzy orange.
'Assisted suicide'
When Webb feared this had not worked, he smothered his wife.
Lord Judge said the jury concluded he suffered from diminished responsibility at the time of the killing and had developed a pyschiatric condition.
The argument put forward on Webb's behalf at the appeal was that careful though the trial judge had been in his approach to the case, "the end result was a sentence that was too long".
Lord Judge said: "We recognise, as the judge was at pains to underline, that this is not a case of assisted suicide. It is a case of manslaughter.
"Nevertheless, as it seems to us, there are features of this case which bring it close to an assisted suicide."
Impeccable record
Mrs Webb had "reached a voluntary, clear, settled and informed decision" to end her life, said Lord Judge.
When she failed to achieve her "clear and unequivocal wish to end her life", her husband took over from her.
The judge said Webb was a man of previous good character with an impeccable work record.
He added: "We accept the submission that, if he himself had not been in the situation in which he was and suffering from the condition from which he did suffer, it is most unlikely that this killing would have happened.
"We remind ourselves of the turmoil which he must have suffered as he committed the last fatal act."
Webb, who has spent 90 days in custody - the equivalent of a six-month sentence - was not present for the ruling.