Bishop of Sheffield suggests Lily Allen song for course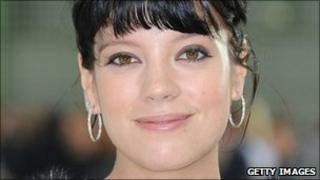 The Bishop of Sheffield has suggested churchgoers listen to music by the singer Lily Allen as part of a Bible study course.
The course, which is in preparation for Easter, has been drawn up by the Right Reverend Dr Steven Croft.
The radio version of Lily Allen's song The Fear - without expletives - is one of the songs recommended.
Dr Croft said The Fear's theme of materialism captured a "certain spirit" of contemporary culture.
Dr Croft said The Fear, which starts with the words "I want to be rich and I want lots of money", was suggested for groups to listen to if they wanted and would not be played in public worship.
"There is a pretty clear instruction in the book to group leaders to check out the lyrics first and to make sure that they use the version that is played on the radio, not the unexpurgated version," he said.
He added that the song was "clever" and used interesting puns.
"I think it captures a certain spirit of contemporary culture," he added.
"I am not commending it as a way to think, but the song sums up a particular way of seeing the world which is very common, which is confused and afraid but also confident.
"I think she has captured something of the spirit of the age there."
Other material recommended for the course includes the Neil Diamond song Pretty Amazing Grace and clips from Lord of the Rings: The Return of the King.
Prime Minister David Cameron said last year he had stopped his daughter from listening to Lily Allen because he was concerned some of her lyrics were "unsuitable" for a six-year-old.