Passenger numbers rise 5% at Robin Hood Airport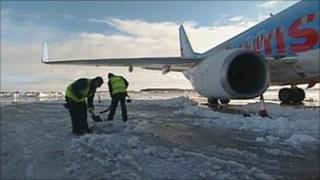 Passenger numbers at Doncaster's Robin Hood Airport increased by 5% in 2010, despite problems caused by heavy snow and the Icelandic volcanic ash cloud.
The airport said there were 895,136 travellers in 2010 compared with 851,355 people the previous year.
Its managers said the rise was "fantastic news".
The airport closed for five days in December because of snow and ice. It also had to introduce no-fly zones in April and May due to the ash cloud.
Airport director Mike Morton said: "This is fantastic news, especially given the difficulties we faced in the travel industry in 2010.
"The severe weather conditions at the beginning and end of the year and the volcanic ash cloud from Iceland had a major impact on travel in and out of the UK.
"Despite this, we saw more passengers taking off and landing in Doncaster."