Woman calls for longer jail terms after punch death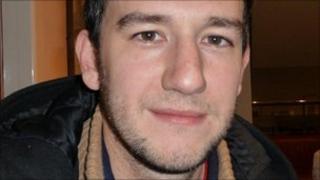 The girlfriend of a man who died outside a Sheffield nightclub after he was punched is calling for judges to be able to give longer prison sentences.
Nathan Bagley, from Sheffield, died after being assaulted by Adam Stott outside the DQ bar.
Stott pleaded guilty to manslaughter, reducing a six-year sentence to four. But he could only serve two.
Tamsin Lloyd-James said she wanted judges to be allowed to award longer sentences where they saw fit.
'Feel so helpless'
Mr Bagley died after fracturing his skull on the pavement when he was hit on 17 October.
Miss Lloyd-James, 28, said: "I was with Nathan longer than this gentleman will be in prison so it's just shocking, you just feel so helpless.
"It has raised a whole lot of awareness of sentencing and I just don't understand the justice system.
"How it can be called justice when someone takes a life and they serve two years? That is beyond me."
Miss Lloyd-James said she had started a petition to send to the government in a bid to get them to change current sentencing regulations.
In a statement the Ministry of Justice said: "Sentencing in individual cases is rightly a matter for the courts to decide.
"Only they have access to all the circumstances which must be taken into account when deciding on the appropriate penalty for a crime."