Woman gets £505 London Congestion Charge demand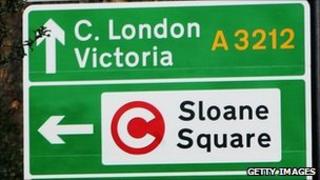 A woman from Sheffield received a demand for £505 for once failing to pay the London congestion charge.
Stephanie Huang admitted not paying the congestion charge in November.
But she said the demands had been sent to her ex-husband, who had not passed them on, and she had offered to pay the bill as soon as she had received them.
Transport for London (TfL) said it had followed "normal procedures" and had dropped the fine to £185 as a "goodwill gesture".
Ms Huang said she had contacted TfL to say she would pay the fine in instalments because she was unable to pay it in one go.
"I wrote a complaint letter explaining my situation and saying I wanted to pay, and no-one replied.
"The next week a bailiff came to the house and gave me a letter which said 'you need to pay £505 or I'm going to take your car'.
Increased charges
"He said to me, 'we charge every single time we go to visit you, if you don't pay this time, next time you'll need to pay £1,000'.
"I [felt] awful and threatened. He treated me like a criminal."
At the time TfL charged £8 for a vehicle to travel through the congestion zone, but if this was not paid within 24 hours the charge increased to £10. Failure to do this resulted in a £120 fine, or £60 if the fine was paid within two weeks.
These charges have since increased.
In a statement, TfL said: "We have followed the normal procedures in this case, as have our appointed bailiff company, JBW.
"A number of letters have been sent, at each stage of the process, to the address of the DVLA registered keeper of the vehicle.
"However, taking into account the circumstances raised by the customer we have decided, as a goodwill gesture, to waive the bailiff fees if the original £185 PCN is paid in full."