Slaughter threat Doncaster bull gets reprieve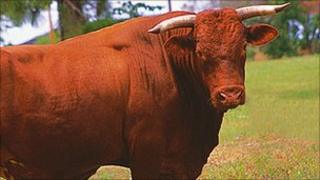 The South Yorkshire owner of a prize-winning bull due to be slaughtered after testing positive for bovine TB has won a last-minute reprieve.
A High Court judge ordered Hallmark Boxter, also known as "Boxy", to be spared while farmer Ken Jackson makes one last legal bid to keep him alive.
Mr Jackson disputes the validity of the TB test and is fighting for a re-test.
The bull was due to be slaughtered on Wednesday but the judge gave 21 days to allow a judicial review application.
A positive blood sample was taken last April and the Department for Environment, Food and Rural Affairs (Defra) ordered the bull's slaughter.
Mr Jackson, of Forlorn Hope Farm at Stubbs Walden, Doncaster, argues the officers who took the sample mixed two half-full vials in the field, contrary to procedures.
He wants the test declared null and void by the courts and has offered to personally pay for a new test.
Animals condemned
The bull, one of the most valuable British Blonde bulls in England, remains in isolation.
A bTB alert arose on the farm after a bought-in beef heifer was found to be a carrier.
Vets then condemned six more animals, including the bull, because there were grounds for suspicion they had been exposed.
The High Court heard there was no evidence of bTB in the rest of Mr Jackson's herd.
Hallmark Boxter was first scheduled for slaughter last August but two days before, Mr Jackson obtained an interim injunction to save him and made the first application for permission to seek judicial review.
A High Court judge refused permission and discharged the injunction last October.
Position changed
Mr Jackson then indicated he was considering renewing his application.
In November a Defra solicitor emailed his solicitors, saying: "If reconsideration is sought then my client will agree not to enforce slaughter until after final determination" but Mr Jackson did renew his application.
Then on 31 December, Defra wrote to Mr Jackson, saying Hallmark Boxter would be collected and slaughtered on 19 January.
Defra officials said they had changed their position because Mr Jackson had failed to obtain an expedited hearing of his application.
Mr Justice Calvert Smith, sitting at the High Court, ruled the November email could not be read as suggesting Defra had given its undertaking on the basis expedition was applied for.
He ruled Mr Jackson should have an opportunity to apply for judicial review within the next 21 days.