Segway motor scooter rider loses legal challenge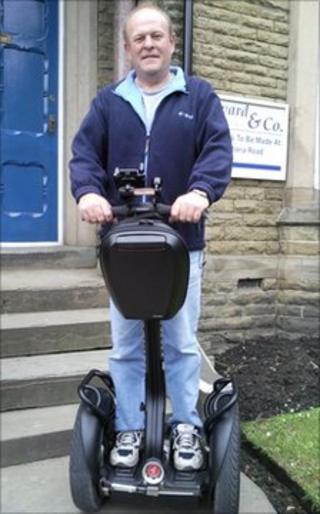 A man has become the first person in the UK to be successfully prosecuted for riding a Segway scooter on a pavement.
Philip Coates, 51, used his Segway motor scooter to travel from his home in Cudworth to Barnsley.
His lawyer had challenged the prosecution's definition of the Segway as a motor vehicle after he was charged under the Highways Act 1865.
But a judge fined Mr Coates £75 and ordered him to pay £250 in costs.
At Barnsley Magistrates' Court on Tuesday District Judge Michael Rosenberg ruled that the Segway was a motor vehicle under the meaning of the law and, therefore, it was an offence to ride one on the pavement.
Mr Coates, of Park Avenue, Cudworth, bought his £5,000 Segway, which has a top speed of 12.5mph, after trying one out during a holiday in Florida.
He was charged after he was seen by a civilian police inquiry officer riding on a pavement in Pontefract Road, Barnsley, in February.
Legal definition
The prosecution had alleged he "wilfully rode a motor vehicle, namely a Segway, upon a footpath or causeway by the side of the road, made or set apart for the use or accommodation of foot passengers".
The judge said the case hinged on the legal definition of a motor vehicle and whether it was "intended or adapted for use on roads".
"Although this is by no means an easy matter to determine, I am inexorably driven to the conclusion that I am satisfied to the required standard that the Segway is a motor vehicle and the allegation is therefore proved."
Mr Coates, an unemployed factory worker, was also ordered to pay a £15 victim surcharge.
The Home Office levy is paid into a fund aimed at helping improve services for victims of crime.
'Test case'
The prosecution of Mr Coates has been seen as a test case by users of the two-wheeled transporters.
It has attracted nationwide interest from campaigners for wider Segway use.
Campaigners say they are effectively barred from using the machines on pavements if they are classed as motor vehicles, but cannot drive them on roads because they do not pass all the requirements of a motor vehicle.
Segways are legal for use on pavements in more than 30 American states and in Portugal, Sweden, the Czech Republic and in German cities.
The evidence in the case was heard at a trial in Barnsley earlier this year, with the judge reserving his decision until today.
After the 20-minute hearing Mr Coates said he did not want to comment.
His solicitor, Victoria Molloy, said they were considering whether to take the case to an appeal.