UK Coal production increases despite colliery explosion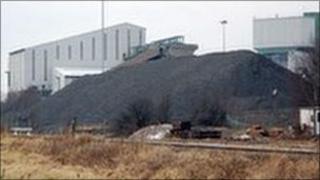 The UK's largest coal mining firm says it has increased production over the past year despite disruption caused by a gas explosion at one of its mines.
UK Coal reported on Monday that it had extracted 7.2 million tonnes in 2010, a 3% increase on the previous year.
The Doncaster-based company originally aimed to produce 7.3 million tonnes of coal in 2010.
But it suffered a set-back in November when it had to shut its Kellingley pit after a methane gas explosion.
More than 200 miners were brought safely out of the pit, which lies on the border of West and North Yorkshire, after the incident on 23 November.
The mine was closed until 15 December.
Land sale
Employees at Kellingley and the company's other two deep mines, at Daw Mill near Coventry and Thorsesby in Nottinghamshire, worked extra hours over the Christmas period to try to make up for the shortfall.
Total production from deep mine operations in the final quarter of 2010 nearly doubled to 1.8 million tonnes, compared with one million tonnes in the same period in 2009.
The 5.8 million tonnes produced from deep mines in the year was slightly down on the six million tonnes the company said it had aimed to achieve earlier in the year.
UK Coal's surface mines - at locations including Steadsburn in Northumberland, Cutacre in Bolton, Lodge House in Derbyshire and Long Moor in Leicestershire - experienced a slight increase in production in the quarter, from 400,000 tonnes to 500,000 tonnes.
UK Coal bought the English assets of British Coal for £815m in 1994, when the state-owned business was privatised.
It owns around 30,000 acres of agricultural land and is in the process of selling 8,000 acres of this to property developers.