'Lives at risk' after council scraps visits to elderly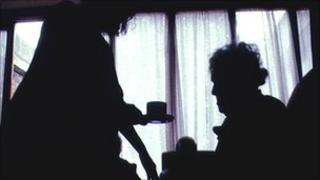 Doncaster Council is to scrap daily warden visits for elderly and vulnerable people despite claims it will put lives in danger.
A new service will now be offered to people in sheltered housing, including panic alarms and volunteer visitors.
Barry Wood, a resident at Jubilee Court, said: "They are cutting the warden to save money and they are putting people's lives at risk."
Doncaster Council accepted the proposal was "a very sensitive issue".
The council hopes to save £1m a year by introducing the new scheme, saying modernisation was "the key driver for change".
But Jubilee Court resident Tony Wrate said: "There are going to be a lot of worried people here. They rely on the wardens."
'Smooth transition'
Councillor Patricia Schofield, cabinet member for adult services, said: "Transformation of the service will be handled in a way that delivers a smooth transition, keeping disruption to a minimum for the residents and staff affected.
"The most vulnerable people in our communities will already receive additional support services.
"For those people affected by the decision to remove the current warden service, they have the opportunity of not only a more modern pendant alarm system, but they will also be able to access a borough-wide volunteer befriending service that will promote independence and reduce the risk of isolation."
Doncaster Council said 135 wardens out of a total of 168 had already requested voluntary redundancy or retirement.
The remaining wardens would be consulted about redeployment within the council's Adult Services department.