Man dies and another hurt in Rotherham plant explosion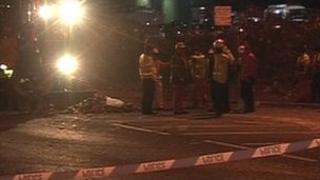 A man has died after an explosion at a Rotherham waste recycling plant which left another man seriously injured.
The incident at the Sterecycle plant on the town's Sheffield Road happened at about 1440 GMT.
South Yorkshire Police said a waste incinerator had exploded, creating a hole in the factory's wall.
A 42-year-old Rotherham man was airlifted to hospital in Leeds where he later died. Sterecycle has suspended operations at the plant.
A 50-year-old man from Barnsley who suffered serious injuries in the blast is being treated at the Northern General Hospital in Sheffield.
Sterecycle said a full investigation would be carried out to establish the cause of the explosion.
A spokeswoman added: "It is with great sadness that Sterecycle announces the death of one its employees at its Rotherham waste treatment plant.
Cars damaged
"This follows a serious incident at the plant at approximately 14.40 on Tuesday."
The company's chief executive officer Tom Shields said "We clearly regret this incident and have advised the Health and Safety Executive.
"We will urgently investigate the causes of the incident and ensure that all necessary actions are taken."
Eyewitness Paul Barnfield told BBC Radio Sheffield he had been driving to work along Sheffield Road when he had seen part of a building "exploding out into the road".
"It blew all the side of the building out," he said. "Black debris was just spread across the road. Another 10 seconds and I'd have been in it."
Part of Sheffield Road was closed for nearly three hours.
Police said the explosion had also caused damage to cars parked across the road from the site.