Sheffield mother to freeze eggs for infertile daughter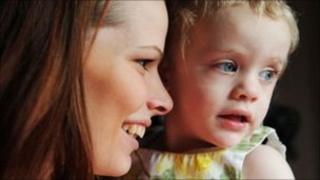 A mother from Sheffield plans to freeze her own eggs to enable her infertile two-year-old daughter to have children in later life.
Mackenzie Jarvis was born with Turner Syndrome, a chromosome abnormality which causes infertility.
Mother Penny, 25, who has four other children, wants to undergo the procedure so her daughter will be able to use the eggs for an IVF pregnancy.
She said: "I want to do the best for my daughter."
Mackenzie was taken into hospital when she was five months old because she was not feeding properly.
It was then she was diagnosed with Turner Syndrome.
The condition affects around one in about 2,500 girls and occurs when one of the two X chromosomes of female DNA is completely or partially missing.
Ms Jarvis said she was shocked at the diagnosis.
"I cried my eyes out. I cried for days. Even now I cry."
As well as infertility, Turner Syndrome also causes growth problems and is associated with heart, kidney and thyroid problems, bone disorders and hearing and ear problems.
Mackenzie is partially deaf, wears a hearing aid and communicates through sign language.
Although the toddler will not be able to conceive naturally, she could carry a child created from a donated egg.
Ms Jarvis has asked about referral to IVF specialists at Sheffield's Jessop Hospital despite criticism about the ethics of the procedure.
She said: "I have been called some really nasty names. To be honest, I expected that. But it's part of the territory. My main priority is Mackenzie.
"If Mackenzie doesn't want to use them, then that's fine. If Mackenzie doesn't want children, that's fine.
"I'm giving her plenty of options for when she's older."
A spokesman for the Human Fertilisation and Embryology Authority (HFEA) said the procedure was allowed in this country.
He said it would be important for both mother and daughter to be given appropriate counselling if the procedure was fulfilled.