'Child with lighter' started Barnsley pub fire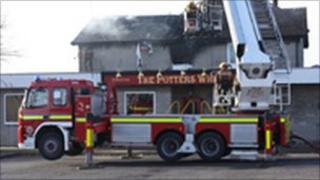 A blaze at a Barnsley pub is believed to have been started accidentally by a young child playing with a lighter, the fire service has said.
Crews were called to the Potters Wheel pub, in Clough Field Road, at about 0900 GMT on Sunday.
The fire service said the blaze had started in a bedroom before spreading to the roof and had required about 20 firefighters to tackle it.
The fire was put out by about 1300 GMT. No-one was injured in the incident.
A pet dog trapped inside the property was also safely rescued.