Eric Pickles branded 'a clown' by Barnsley council boss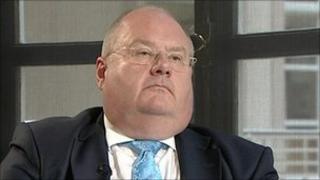 Eric Pickles has been called "a clown" by the boss of a South Yorkshire council.
Barnsley chief executive Phil Coppard criticised the Communities Secretary for suggesting budget cuts would not have an impact on well-run councils.
Mr Coppard's local authority must trim its budget by £26m this year - and save £45m over the next four years.
The Department for Communities and Local Government said cuts were "tough but fair".
Mr Coppard, who received an OBE in 2009 for services to local government, told BBC Radio Sheffield: "You've got this clown of a secretary of state saying that in well-run councils, the public won't notice any difference, I mean what planet is this guy on?
"Public servants aren't supposed to be angry, but you look at this and it's unfair.
"It's the big lie tactic that if you tell a big enough lie, and say it often enough, then people will believe it."
Mr Coppard, who has worked at Barnsley council since 1976 and was appointed chief executive in 2000, said that he had never seen government and council decisions made so quickly.
"We saw this coming, we didn't know it was going to be this silly. We're taking money out of every service, everything is vulnerable."
'Nation's deficit'
Leader of the Labour-led council Steve Houghton said: "He [Mr Coppard] knows what that [the cuts] means for jobs, for services, for the impact on Barnsley's community and he knows it's wrong even with his independence and his professionalism."
It is anticipated that about 1,200 council staff will lose their jobs over the next four years.
Staff have also been notified of a pay freeze and told their current contracts will be replaced by contracts with fewer benefits.
In a statement, the Department for Communities and Local Government said: "Driving down the nation's deficit is the government's biggest priority but we have made sure that extra money, powers and funding freedoms are available to protect frontline services and the public from council tax rises.
"This was a tough but fair settlement ensuring the most vulnerable communities were protected."