Sheffield University students get sit-in reprieve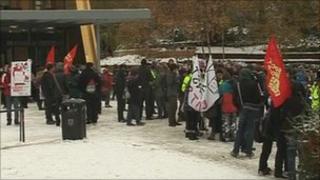 Students facing eviction from the Sheffield university building they have been occupying will be allowed to stay for the time being.
About 40 students have been occupying the Richard Roberts lecture theatre at the university since Tuesday.
University lawyers were granted a High Court injunction to remove the students, because the room was needed for exams.
But the institution said it had found other rooms where they could protest.
Pro vice chancellor Paul White said they would review the situation over the next few days, but until then the students would be allowed to continue their occupation.
Mr White told BBC News: "We have obtained the injunction because we had exams going on in that building but we have managed to relocate the exams, and that changes the position.
"We therefore have told the occupiers that we no longer need to move them."
He added that the students had been "very good", and had allowed lectures to continue in the room they were occupying.
The group took over the building after a protest march through the city centre.