Sheffield university's injunction over sit-in students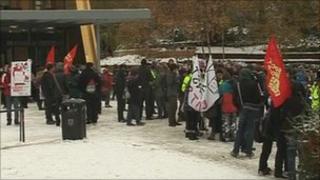 Students staging a sit-in in Sheffield in protest at a rise in tuition fees are facing eviction after university lawyers won an injunction.
About 40 students have been occupying the Richard Roberts lecture theatre at the University of Sheffield since Tuesday night.
The university said it went to the High Court to get the injunction because the room was needed for exams.
The students said they were planning to comply with the court order.
The group took over the building after a protest march through the city centre.
Student spokesman Alistair Holmes said the injunction was a "huge injustice" as the group had allowed lectures to take place in the room since Tuesday without any disruption.
Before seeking the injunction the university had offered the students an alternative room in which to continue their demonstration but Mr Holmes said the offer had been unacceptable.
He said: "The reason that we didn't agree to that was because we felt here that we had an effective protest with a voice on campus and effectively what the university wanted to do was to sideline that protest, keep us in a corner and cut us off from the rest of the student body."
Offer rejected
The injunction prevents students from staging protests in any part of the university.
Paul White, the university's pro vice chancellor, said: "When it comes to the security, the confidentiality and all the other aspects that surround an exam that's going to be taken by over 250 students on Monday and another on Tuesday we really feel we cannot let that be compromised at all by having protesters in and out of the building.
"We sympathise with their cause but they need to pursue it elsewhere.
"We made [the offer of another protest site] very generously to them. It would have disrupted us but it would have given them actually a more visible location.
"But they rejected that offer. Since they rejected that offer I am afraid that offer has now gone. They just haven't helped us to help them."
Mr White said if the students refused to move from the room enforcement officers would be brought in to evict them.