Fifa decision ends Sheffield's World Cup dream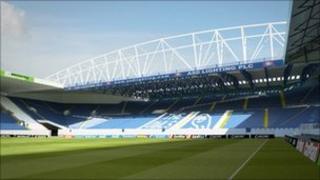 Sheffield's hopes of staging World Cup games have been dashed after England's bid to host the 2018 tournament failed.
Fifa, world football's governing body, has chosen Russia over England, Netherlands-Belgium and Spain-Portugal.
Sheffield was one of the 12 cities vying to host World Cup matches if England's bid had been successful.
Sheffield Wednesday had hoped the forthcoming £22m redevelopment of its Hillsborough ground would help it meet the criteria to become a host venue.
Former World Cup winner Sir Bobby Charlton was among those who backed Sheffield's bid to be a host city for the event.
Speaking after Fifa's announcement, Wayne Coyle, Sheffield's bid director, said he was "very disappointed".
'International stage'
He said the presentations given by England's team in Zurich on Thursday had been "fantastic".
"The reality is when you have got four people in this final position all of them would be suitable hosts," he said.
City council leader Paul Scriven said: "I would like to thank the Sheffield bid team for all their hard work and acknowledge all the support we received from so many people and organisations across the city, including our two professional football clubs.
"The city will benefit from the work of the bid team which has seen local sporting organisations work together for the benefit of the community, whilst at the same time Sheffield profiled on a national and international stage.
"There are exciting plans to deliver a unique grassroots football project and very shortly we will be announcing details of one of the biggest ever sporting programmes - featuring international standard events - in Sheffield next year."