South Yorkshire affected by heavy snow and ice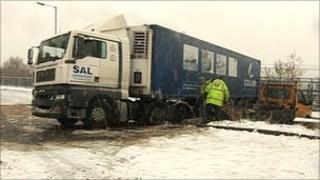 Heavy snow caused widespread disruption to schools and on the roads in South Yorkshire on Tuesday.
Some 160 schools were closed and bus services, particularly in Sheffield, were badly affected.
Sheffield council said it had used 4,000 tonnes of salt in November alone on the city's roads - an unprecedented amount for the time of year.
Police said the Barnsley area had been badly hit, with some main routes in the town described as "barely passable".
Brandon Jones, of bus operator First Bus, said: "We have managed to operate all routes [in South Yorkshire] but not in their entirety from end to end.
"Towards the end of our routes many of them go onto estates and side roads which are not easy to access.
"In Sheffield most routes have been affected in one way or another."
Snow drift warning
Wayne Southall, of Sheffield City Council's Streetscene department, said the local authority had 25,000 tonnes of salt in stock and had already used about 4,000 tonnes.
"I cannot remember a November like this," he said.
"To have such prolonged snow and for it to be so cold is very unusual."
The A57 Snake Pass remained closed on Tuesday evening because of snow and ice and flights at Robin Hood Airport near Doncaster were grounded for part of the day.
More snow has been forecast for South Yorkshire overnight, with temperatures expected to fall to -4C and strong winds causing drifting, the Met Office warned.