Snow wardens braced for bad weather in Sheffield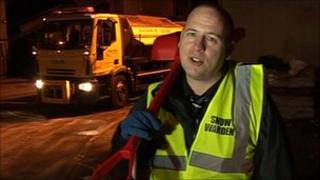 An army of snow wardens have been trained up by Sheffield Council to help keep the city moving if bad weather strikes.
Sixty volunteers have been equipped with a tonne of grit and a snow clearing kit to clear smaller roads that the council cannot get to.
They volunteered as a result of a consultation carried out by the council following last winter's heavy snowfall.
Volunteer Rebecca Lissaman-Savage said everyone needed to "do their bit".
She said: "I live in a really hilly area of Sheffield and although the council grit all the main roads it's really impossible to get to them in severe weather.
"If everyone does their little bit then Sheffield will move far more smoothly."
Liberal Democrat council leader Paul Scriven said the snow wardens would be covered by the authority's insurance and could not individually be sued if someone fell on a street that had been cleared.
He said the wardens would concentrate on smaller roads and council staff would continue to clear all the major routes.
"These are people who live on some of the side roads and hills of Sheffield that we normally can't get to who are giving up their time to put in their little bit to ensure they can get on to those main roads and hopefully keep the city moving a little bit better than we did last year.
"We think we're really well prepared. I'm not tempting fate but we're ready to go in terms of the grit we have, the snow wardens and our own staff are ready to go when that first drop of snow hits the ground."