Sheffield students in tuition fees protest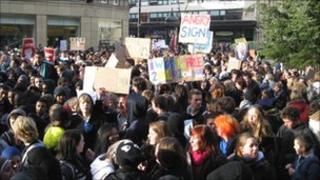 About 3,000 students in Sheffield, including hundreds from a secondary school, have joined protests in the city over the rise in tuition fees.
Some 300 pupils, mainly sixth formers, walked out of King Edward's School despite a warning that their absence would be considered unauthorised.
They joined other students on a march to a rally at Sheffield Town Hall.
Sheffield City Council leader Paul Scriven said the students were "taking part in the democratic process".
Mr Scriven, a Liberal Democrat, said: "As long as they are not going to cause disruption to anyone else then it is absolutely right that their voice is heard."
His party's leader Nick Clegg had earlier urged students to reconsider the coalition's tuition fees plans before they took part in the day of protests.
"Examine our proposals before taking to the streets. Listen and look before you march and shout," he said.
School warning
Reports of plans by some students to protest at Mr Clegg's constituency office in Sheffield prompted South Yorkshire Police to post extra officers outside the building in Nether Green.
One of the King Edward's School sixth formers told BBC News why she had decided to join the protest.
"A lot of teachers didn't want us coming, but some of us have notes from our parents saying we can get out," she said.
"Personally, I think it is silly to have to ask permission to be angry, but it is the only way we can come out here and protest and get heard."
A message on the school website said: "The school has parental responsibility during the school day.
"We expect students in the sixth form to attend all lessons; if sixth formers choose to leave site it will be counted as an unauthorised absence."
Meanwhile, about 150 students gathered outside Barnsley College to chant their opposition to education cuts and the hike in fees.
Supt Martin Scothern, of South Yorkshire Police said: "There are currently around 3,000 people in Sheffield city centre, mainly outside Sheffield Town Hall, and as you would expect, this protest is noisy but remains peaceful and will be policed accordingly throughout the day.
"We are also aware of a protest taking place in Barnsley. This is also noisy but remains peaceful."