South Yorkshire Fire chiefs consider station closures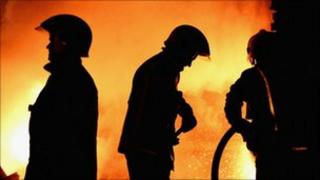 South Yorkshire Fire Service is considering closing fire stations and cutting crews and control room staff to save money, BBC News has learned.
A list of options aimed at cutting £9m from the service's budget over the next four years will be presented to the fire authority next week.
Among the proposals are the closure of up to three fire stations and axing nine control room posts.
The measures have been prompted by a 25% cut in government grant funding.
In a statement, South Yorkshire Fire Service said: "As a result of the large government funding cuts, we are looking right across the organisation for potential savings.
"We have already identified and announced savings in back office and management structures but these will fall short of the total savings we will need to find by 2015.
"Therefore, officers have been asked to research all the possibilities for working more efficiently without affecting the service received by the public.
"A number of possible options have been identified and these will be presented to members for their consideration."
The service is recommending that fire authority members, who meet next Monday, agree to the control room staff reductions which would save a total of £900,000.
Changes to fire station rosters, which would generate £2.17m of savings and the removal of three roving back-up pumps, which would save £1.26m. are also recommended.
The proposal to close up to three stations, which each cost £1m a year to run, is an option but is not being recommended by the fire service.
Another option to reduce pump crews from five to four firefighters, which would save £2.66m, is also being presented to the fire authority, but not recommended.
Fire Brigades Union (FBU) spokesman Graham Wilkinson said: "One of the most worrying [options] is the closure of fire stations, which I'm hoping won't get accepted by the fire authority.
"Obviously if a fire station does close, then… an appliance would have to come from another area and you're going to have fewer appliances to cope with cover in that area."
"They've got a tough job to do because I know they've got to try to make £9m savings over the four years and I don't envy them doing that.
"I'm hoping they can, but I fail to see how you can make those cuts without affecting the frontline services.
"Before the election both the Liberal Democrats and the Conservatives were saying that there wouldn't have to be any frontline cuts, but obviously that's not true."