Rotherham family's Somme bugle found on market stall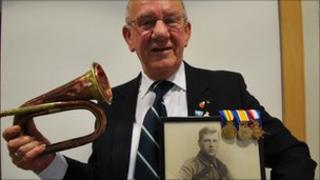 A precious family memento of the grandfather he never knew has been found by chance by a 73-year-old man as he browsed through items on a Rotherman market stall.
Maurice Green, aged 73, from Brinsworth, was browsing through war memorabilia on the stall when he came across the bugle which had belonged to his grandfather in World War I.
His relative, Daniel Clay, was serving with the 8th Battalion York and Lancaster Regiment when he was killed in the Battle of the Somme in 1916.
After a few moments of haggling, his bugle was bought for £5 by his grandson 94 years later.
Mr Green said he spotted three digits from his grandfather's service number on the blackened and dented brass bugle.
"Out of curiosity I picked it up and the stallholder said 'ten pounds for that, sir'."
"I said 'hold on, it's bent and battered, I'll give you four', because by now I'd seen these three numbers and I was getting a bit excited."
Eventually the two settled on a price of £5.
When Mr Green cleaned the bugle up he realised the number matched that of his maternal grandfather.
The bugle is now a treasured piece of family history, along with a poignant letter his grandfather wrote on the eve of his death.
In the letter Daniel Clay tells his mother not to be downhearted but asks her to look after his "darling little daughter" in the event of his death.
That daughter grew up to become Mr Green's mother.
The letter, written in pencil, says "there is a terrible bombardment going on now, it will be hell upon earth before we have finished".
The bombardment was the prelude to the start of the Battle of the Somme, on 1 July 1916, one of the bloodiest battles of World War I.
Ironically, Mr Clay had no need to be there - as a deputy in the mines he could have been exempt, but he went to be with his friends.
According to Mr Green, writing a letter back home was something the men were told to do on the eve of a big offensive.
"They all had to write one. They went over the top next day at 7.30am when the officer blew his whistle. He (Daniel) never came back. Neither did 600 others."
As a result of the heavy losses the 8th Battalion York and Lancaster Regiment had to be disbanded. It is not known how the bugle came to return to Rotherham.
The bugle can now be added to other treasured mementoes of his grandfather, the letter, some medals and a yellowing photograph, to be passed down to future generations of his family.