South Yorkshire biker campaign 'cuts accidents'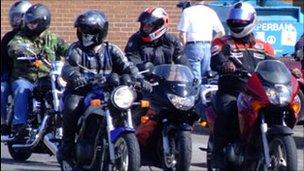 The number of bikers injured on South Yorkshire's roads has dropped by a third since a police campaign started, officers said.
Police said the county's motorcycle officers were actively "engaging with and educating" riders about the dangers of poor riding.
In the four-year campaign, 27 stretches of road considered the worst for bike casualties have been targeted.
And 300 "biker beware" signs warning drivers about bikers have been put up.
Sgt Graham Sayner, head of South Yorkshire Police's Motorcycle Wing said: "We have now run this specific initiative for four years and the reductions in casualties we have seen are not insignificant.
"Rather than just enforcing the law we have seen the benefit of engaging with and educating fellow motorcyclists out and about on our roads.
"This, along with our more formal workshops will hopefully continue to drive down the numbers of motorcyclists killed and seriously injured," he added.
Related Internet Links
The BBC is not responsible for the content of external sites.