Wakefield man admits 'motiveless' killing in Sheffield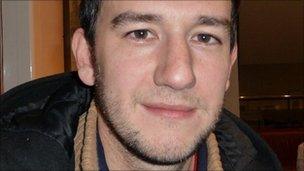 A man has been jailed for four years for the manslaughter of a 31-year-old who was beaten to death outside a Sheffield nightclub.
Nathan Bagley, of Brincliffe Edge Road, Sheffield, died after he was attacked by Adam Stott as he left the DQ bar on 17 October.
Stott, 27, of Agbrigg Road, Wakefield, West Yorkshire, pleaded guilty to manslaughter at Sheffield Crown Court.
Judge Roger Keen said Mr Bagley "did nothing to aggravate or provoke" Stott.
After the sentencing Mr Bagley's family said he had successfully applied for visas for himself and his girlfriend to work in Australia and he was planning to leave after a driving test next week.
They said: "As a result of Stott's attack on Nathan, we were denied the opportunity of saying our goodbyes.
"Nathan was a gregarious young man with a dry sense of humour and a big beaming smile.
"He was a handsome, thoughtful, loving and intelligent young man.
"His family, girlfriend and wonderful group of friends are struggling to come to terms with life without him. We are the ones with the long sentence."
Det Supt Colin Fisher, of South Yorkshire Police, said: "Nathan was an innocent man, like any other member of the public who visited the DQ bar that night.
"He just happened to gain the attention of Adam Stott as people left the nightclub.
"Violence happens outside nightclubs every now and then. However, this was a sickening attack, made worse as there was simply no motive whatsoever."
Related Internet Links
The BBC is not responsible for the content of external sites.