Doncaster prison 'under control' after three nights of rioting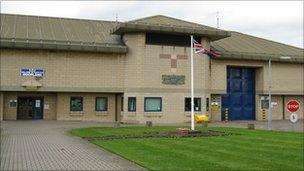 Inmates at Moorland Prison continue to have their movements restricted after three nights of rioting earlier in the week.
Prison officers say they now have the situation under control with prisoners remaining in their cells under what officers describe as the 'tightest restrictions possible'.
There was no further trouble reported last night at the prison in South Yorkshire.
More than 250 inmates were moved to other jails after disturbances in both the adult and youth wings and a review is now underway into what happened to start the disturbances.
One prisoner was injured and was taken to hospital for treatment.
Disturbances initially broke out at the Moorland Young Offenders Institution on Tuesday and Wednesday.
Wednesday night's incident at the young offenders' unit started when about 55 prisoners refused to return to their cells at 1830 GMT.
They surrendered more than eight hours later.
One inmate was taken to hospital with head injuries but no prison officers were injured.
On Tuesday night, three members of staff at the prison were assaulted and a female officer sustained a fractured jaw when more than 40 young offenders refused to return to their cells after a fight broke out at 1900 GMT.
The rioting at Moorland on Tuesday happened at the same time as about 60 offenders aged between 15 and 18 refused to return to their cells at Warren Hill in Woodbridge, Suffolk.
The last inspection of Moorland, carried out in October 2008, found "neither the physical environment nor staff-prisoner relationships were sufficiently good".
Related Internet Links
The BBC is not responsible for the content of external sites.