Nick Clegg challenged to do more to support Sheffield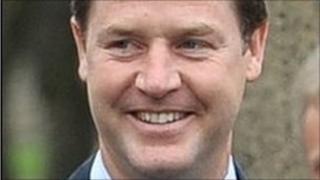 The chairman of Sheffield United Football Club has challenged Deputy Prime Minister Nick Clegg to do more to support Sheffield.
Kevin McCabe spoke about his fears that Yorkshire could "fall off the world business map".
He raised his concerns during a meeting in the city with Mr Clegg, who represents the Sheffield Hallam constituency.
About 400 members of the business community were also present.
The event at Ventana House, part of Sheffield's Digital Campus, was to mark the opening of a branch of an international law firm in the city.
Mr McCabe revealed his concerns about the closure of regional development agency, Yorkshire Forward, and the cancellation of an £80m loan to Forgemasters.
He outlined his fears that the economic downturn could halt the growth that South Yorkshire has experienced over the past decade.
'Team together'
He said: "The UK is in a deep recession, probably the worst recession I've experienced in my business career which stretches back to the 70s.
"It's important that the resurgence in Yorkshire, and particularly in South Yorkshire, that's occurred these last 12 years is not lost.
"Creativity, drive, contacts, presentational skills, means that an area like South Yorkshire, if we get a team together, can not only live through recession but prosper."
Sheffield United has significant connections with China through its ownership of Chengdu Blades.
Mr McCabe believes China could provide valuable investment for South Yorkshire.
He said: "If I could get Nick Clegg across to China, I could make sure that he meets the right people at government level.
'Need a plan'
"I believe the outcome to that, given consistent support, will be investment from China into South Yorkshire and into Sheffield.
"And it's so important - we've got to continue the regeneration of Sheffield."
Mr Clegg responded directly to Mr McCabe's comments during his speech at the meeting.
He said: "Kevin was saying 'We need a plan'. Quite right, Kevin, we need a plan.
"Because some of the old mechanisms we used to support South Yorkshire and Sheffield, like regional development agencies, need to give way to something more workable which is closer to the ground."