Sheffield Cathedral aims for £980,000 lottery grant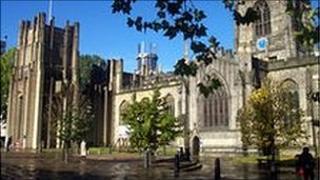 Plans to improve Sheffield Cathedral have moved a step nearer after fundraisers were given the go-ahead to apply for a £980,000 lottery grant.
An initial grant of £31,900 from the Heritage Lottery Fund (HLF) was awarded to help develop the bid.
The cash would be used as part of a £1.25m plan to make the Grade I listed building more attractive to visitors.
The cathedral has two years to submit more detailed plans to the HLF and apply for the full grant.
The scheme includes major improvements to access and new exhibitions to bring to life the cathedral's history.
It is the oldest building in the city, with the majority of the structure dating from 1430, although stones from an earlier Norman church can be seen in the east wall.
Peter Bradley, Dean of Sheffield Cathedral, said: "We are very excited to be working with the HLF and other community partners on this project, which promises to enable us to open up the wonderful heritage of Sheffield Cathedral to the wider community in South Yorkshire."
Medieval space
The cathedral houses internationally important collections of sculpture and carving, dating from the 16th, 17th and 18th centuries.
The Shrewsbury Chapel contains the tombs of the Earls of Shrewsbury, one of whom was jailer to Mary Queen of Scots and married Bess of Hardwick.
Fiona Spiers, Head of Heritage Lottery Fund for Yorkshire and the Humber, said: "We're extremely pleased to give initial support to Sheffield Cathedral for its imaginative plans to make it easier for people to learn from and interact with this wonderful medieval space and the importance it plays in Sheffield's history.
"Whilst this is just the beginning of the journey, the award of this development money will enable the cathedral to work up their plans for a full grant in the future."