Doncaster Twitter bomb threat man starts appeal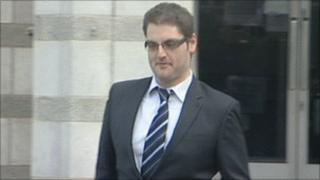 A trainee accountant from Doncaster who posted a message on Twitter threatening to blow up an airport has started an appeal against his conviction.
Paul Chambers, 26, claimed he tweeted in a moment of frustration after Robin Hood Airport in South Yorkshire was closed by snow in January.
He was found guilty in May of sending a menacing electronic communication.
His barrister argued at Doncaster Crown Court the conviction should be quashed because his tweet was not "menacing".
The tweet he sent to his 600 followers in the early hours of 6 January said: "Robin Hood Airport is closed. You've got a week... otherwise I'm blowing the airport sky high!"
At his trial in May, Chambers was fined £385 by a district judge and told to pay £600 court costs.
His counsel Stephen Ferguson told the appeal hearing that even the police officer investigating the case branded it a "foolish comment posted on Twitter as a joke for only his close friends to see".
'Facetious parody'
He said the prosecution had failed to prove his client had any intention to threaten anyone or that he thought there was any risk someone would interpret the Tweet in this way.
Mr Ferguson said the final ground of appeal was that Twitter was not a "public electronic communications network" within the meaning of the relevant law.
He said if his tweet was considered menacing within the meaning of the law, then so could so many other statements made in all manner of social situations.
Mr Ferguson said his comment was nothing more than "facetious parody".
His trial was told Chambers had been planning to go to Belfast on 15 January to meet a woman he had met through Twitter, identified only by her Twitter alias, crazycolours.
It was this trip from Robin Hood Airport which was threatened by the closure of the runways.
He had been exchanging messages with crazycolours on 6 January when he sent the message which provoked the prosecution.
Mr Ferguson told the court Chambers now lived in Northern Ireland.
He said: "Young love did spring from these tweets and he now lives in the same country as crazycolours."
The appeal hearing was adjourned to a date to be fixed.