Magna Science Adventure Park gets £150,000 council loan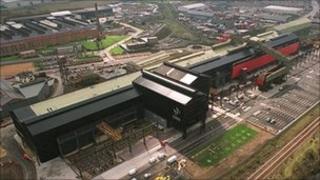 One of South Yorkshire's top tourist attractions has been given a £150,000 council loan to keep it out of the red.
Rotherham council said Magna Science Adventure Park at Templeborough has been loaned money at a commercial rate of interest for 12 months.
The attraction, which opened in April 2001, cost more than £40m, half of which came from lottery funding.
It is run by Magna Trust, a registered charity whose constitution does not allow it to go overdrawn.
Rotherham Council previously agreed a £200,000 loan to Magna last September and said that would be repaid at the end of this month.
The new loan, together with interest, is to be repaid by September 2011.
'Innovative changes'
Councillor Ken Wyatt said: "Magna is a fantastic facility that is worthy of our support.
"It offers a unique interactive day out for families as well as prime conference facilities that attract visitors from right across the region.
"Part of this authority's remit is to help and support the local economy, and this loan will do just that, without affecting our own business and services."
Matthew Beck, managing director of the Magna Trust, said: "Magna is grateful for the council's short-term loan to assist with cash flow.
"This enables Magna to move the business forward into its 10th anniversary with several events and innovative changes already planned."