Conisbrough's Nearcliff Quarry to reopen after 20 years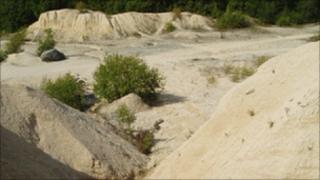 A quarry near Doncaster is to reopen for the first time in 20 years despite objections from local residents.
Nearcliff Quarry in Conisbrough was forced to close in 1990 when it was being used as a waste limestone dump without planning permission.
In 2006, Doncaster Council turned down an application for quarrying to resume.
However, it has now approved plans by Taylor Woolhouse Holdings for more than 3,000 tonnes of limestone a week to be extracted for the next eight years.
Blasting worries
Quarrying at the site ended in the 1950s and it was later used as a dump for more than 800,000 tonnes of waste limestone from nearby Cadeby Quarry.
But mineral work stopped altogether in 1990 when the council took enforcement action because planning permission had not been granted for the removal of limestone waste from the site.
The council decided to grant permission despite more than 300 objections citing concerns about the use of blasting, site access, traffic and pollution.
South Yorkshire Police backed the resumption of quarrying, saying it would end problems of anti-social behaviour, such as off-road motorcycling, associated with the site.
The planning proposal argued that removal of the waste limestone and quarrying 200,000 tonnes of virgin limestone would assist regeneration.